Unlock Exclusive Music & More
Join The Tommy Vext Social Platform
Join The Movement With The Tommy Vext App
More Than Music, It's A Movement.
Welcome to the Tommy Vext App
Your All-Access Pass to the World of Tommy Vext!
Discover the Difference: So Much More Than A Streaming Service
Join us on a journey that transcends ordinary music experiences. The Tommy Vext App isn't just about streaming music; it's a platform where passion, community, and music converge. This is where you don't just listen to music – you live it.
Unmatched Benefits:
All-Access Music: Dive into Tommy Vext's complete discography, including exclusive new albums and releases available only on the app.
Interactive Community: Connect with fellow fans and engage directly with Tommy on a dynamic social feed.
Live Experiences: Interact with Tommy Vext himself during in-depth live sessions, sharing stories, experiences, and music.
Groups: Join groups & forums tailored to every facet of the Tommy Vext universe.
Personalized Profiles: Create your profile, share your stories, and mark your spot on the interactive fan map.
Exclusive Content: Get first-hand access to behind-the-scenes content, from Tommy's autobiography to backstage passes & live Q&As.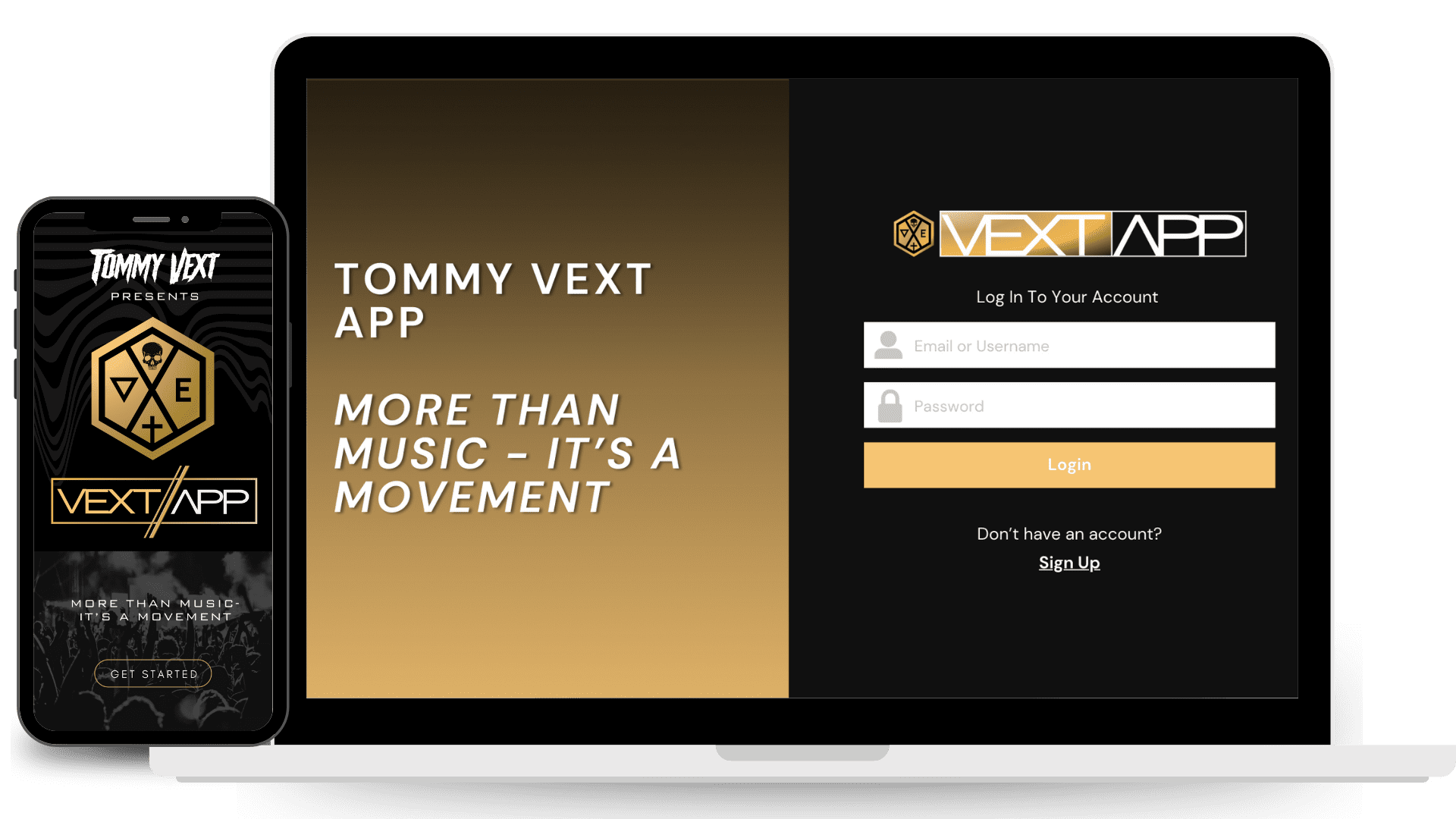 Easy Web & App Access
Seamlessly switch between web and mobile with cross-platform compatibility. Whether you're on your computer or on the go, Tommy Vext's world is just a click away.
A Rockstar With A Heart Of Gold
Tommy Vext isn't just any musician. Previously leading the charge as the frontman of Bad Wolves, before branching out on his own, he's made some serious waves in the music world. Remember the hit cover of "Zombie"? That was Tommy and Philip Naslund, turning it into a chart-topping sensation. And get this – all those royalties from the song? He gave them to Dolores O'Riordan's kids, over a million dollars!
Rocked out as Bad Wolves' lead singer.
Jammed with cool bands like Snot and even led Five Finger Death Punch.
Made "Zombie" a hit and did something amazing with the profits.
Battled addiction and came out stronger, inspiring millions.
Even got an award for helping others in recovery.
Tommy's more than a musician; he's a story of guts, kindness, and rocking the world in more ways than one.
Join the pack with our Basic Plan!
Perfect for those who want to explore the Tommy Vext community.
Features:
Community Access: Dive into stories, interactions, and more on our social feed.
Interactive Maps & Profiles: Connect with fellow fans on our interactive worldwide map and create your own fan profile.
Chat: Chat with anyone in the community.
Groups: Wolf Pack Group access
Music Albums: Enjoy Tommy's rich collection of music albums, right at your fingertips.
Content: Easily access music video's, see Tommy's posts, and more!
Omega Wolves – Silver Plan
TOMMY'S NEW ALBUM!
Step up to the Omega level! This plan is ideal for dedicated fans seeking a deeper connection with Tommy and his music.
Features:
ALL FEATURES IN BASIC, PLUS:
New Album Access: Tommy Vext App is the only place you can access Tommy's new album – A.N.T.A.R.C.T.I.C.A. in our music player that works just like AppleMusic/Spotify
All Music: Unlimited access to the full range of Tommy's discography.
Live Q&A Sessions: Participate in exclusive live Q&A sessions with Tommy himself.
Group Access: With this plan you unlock the Live Q&A Group and the Omega Wolves Group.
NEW ALBUM, ALL CONTENT, & TOMMY'S NEW BOOK!
For the ultimate Tommy Vext experience, the Alpha Wolves plan offers unparalleled access and exclusive content.
Features:
EVERYTHING IN SILVER, PLUS:
New Album & Autobiography Access: Early access to new albums and Tommy's upcoming autobiography.
Complete Music Catalog: Delve into every song and album in Tommy's extensive music catalog.
Exclusive VIP Groups: Engage in VIP-only groups for in-depth discussions and content.
Special Announcements & Offers: Stay in the loop with VIP exclusive announcements and offers.
Be A Part Of Something Bigger
1. Feeling Disconnected from Music?
Discover a World Where Music Meets Community
Tired of the same old streaming experience? The Tommy Vext App redefines your music journey. It's not just about tracks and albums; it's about building connections. Dive into a community where music is a shared experience, and every song tells a story.
2. Missing Real Artist Interaction?
Get Up Close and Personal with Tommy Vext
Longing for more than just listening? The Tommy Vext App brings you face-to-face with Tommy. Engage in live sessions, Q&As, and exclusive content. It's your backstage pass to a world where artists and fans truly connect.
3. Searching for Exclusive Content?
Unlock the Door to Never-Before-Seen Music and Stories
Looking for something unique in your music app? The Tommy Vext App offers exclusive access to new albums, behind-the-scenes content, and personal stories from Tommy himself. It's not just an app; it's a VIP experience for every music lover.
4. Ready to Be Part of Something Bigger?
Join a Movement, Not Just a Music App
Want more from your music experience? The Tommy Vext App isn't just an app; it's a movement. Join a community of fans, participate in groups, and be part of a musical revolution. Your music journey deserves more – it deserves a community.